The Best Flooring for Industrial Environments
Industrial environments such as food processing facilities or pharmaceutical plants are subjected to greater wear and tear than other commercial premises. To accommodate this, facilities have historically opted for PU and Epoxy resin flooring, due to their durable properties and high compression strength.  However, both of these floors chip and crack under significant pressure and repairs are either expensive or impossible, which is why PU and Epoxy resin floors typically need replacing every 5-10 years in high traffic areas.
Due to greater durability, hygiene and longevity coupled with the lowest total cost of ownership polymethyl methacrylate or PMMA have emerged as a market leader. Below we examine some examples of industrial environments that have benefitted from installing PMMA resin flooring.
Meat Processing Facilities
Meat processing facilities, such as boning halls and abattoirs, demand hard wearing flooring that also complies with strict hygiene standards. Food hygiene standards in Ireland require floors in meat processing facilities to be water resistant and completely free from cracks and holes, which can be a problem for PU and Epoxy floors exposed to high traffic.
Liffey Meats, one of Ireland's leading beef processors, required a durable and compliant flooring solution that would last a minimum of 10 years when it came to upgrading their 600m2 facilities. The flooring had to offer temperature resistance up to +80C degrees, be easy to clean and have excellent anti-slip properties. It also had to be compliant with all BRC Global Hygiene Standards and be installed quickly, with minimal operational downtime.
Gareth Kivlehan of Liffey Meats opted for a PMMA resin floor from FloorTech® and had the following to say about their new Trazcon Decor System 3: 
"We had quite a list of demands that any floor provider had to meet; FloorTech® surpassed them all. Our downtime was kept to a minimum, all BRC standards were met, and the finished product has proven to be both durable and easy to maintain". 
 To learn more about the Trazcon® Decor System, download the technical datasheet.
Dairy Industry Flooring
Production facilities, warehouses and laboratories used in the dairy industry all require durable, hygienic and easy care flooring. Additionally, flooring in areas where milk tankers unload, where any manner of production takes place or in milk parlours, require additional traction to prevent people slipping.
Dairygold have installed PMMA resin flooring at their milk processing facility in Mallow. For the project, they required a floor that was easy to maintain and conformed to the highest hygiene and slip resistance standards, which is why they decided to use a PMMA resin that is certified for Food Conformity EN1186 and Slip Resistance to BS7976-2:2002.
Michelle Ainsworth, Project Manager for Dairygold, confirmed the PMMA floor exceeded expectations in swab testing for cleanliness, saying:
"We would expect these kind of results from stainless steel."
To find out more about the new PMMA flooring system installed by Dairygold, read the full case study.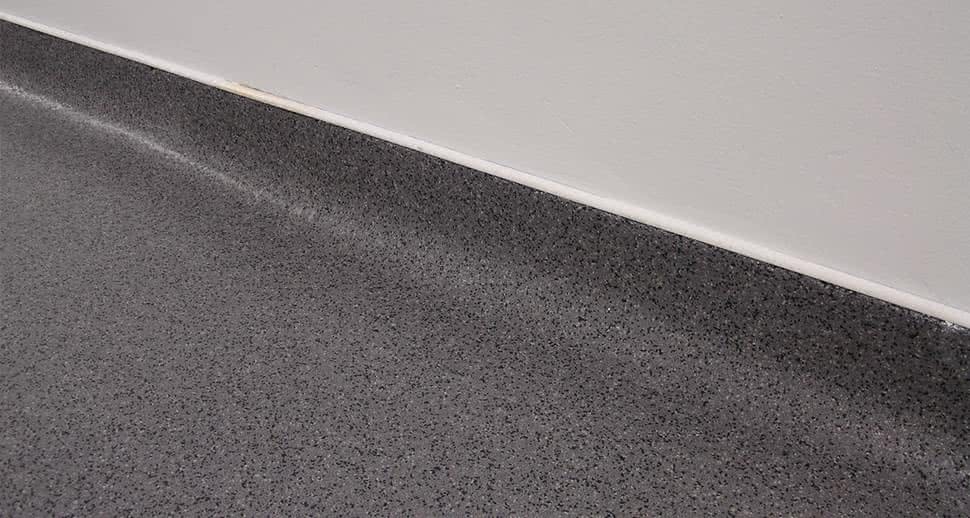 Pharmaceutical Flooring
The pharmaceutical industry demands flooring that is aesthetically pleasing, easy to clean and hygienic, for a range of different levels of laboratory, production and canteen operations.
Key industry companies have made the decision to upgrade their flooring to PMMA resin, and it is now being used extensively throughout the pharmaceutical industry. One of the primary reasons for this is that PMMA resin flooring can be installed at 0-30+C, with sub-zero temperatures possible with additives. This makes PMMA a more flexible option for working pharmaceutical environments, where sometimes a flooring system will need to be laid in a working factory environment, where the temperature needs to be kept consistent. The problem with Epoxy and PU flooring is that they ideally need to be installed at a temperature of 15+C, which can mean operations have to cease during the installation.
Pharmaceutical giant GSK recently installed PMMA flooring at their new developments at The Gantrez and The Kilo manufacturing facilities in Ireland. They now benefit from super durable, easy-to-maintain flooring that significantly enhances the performance, cleanliness, aesthetics, safety and sustainability of their premises.
Download the GSK report to learn more about how our PMMA flooring system delivered on all their requirements.
Warehouse & Logistics Flooring
The quality of a warehouse flooring system can affect the smooth running of warehousing and logistics operations, making it a key consideration for these businesses. Epoxy resin floors have been popular in the past, as they provided a level and slip-resistant surface with incorporated signage. However, conditions such as heavy traffic, high impact and extreme temperatures can negatively affect the usability and lifespan of these flooring systems, resulting in them having to be replaced every 5-10 years. This is largely because, once an Epoxy flooring system is damaged, it is difficult and often impossible to repair without complete removal of the existing floor.
Unlike Epoxy systems, PMMA floors can be upgraded or repaired without removing the existing floor. Even after a repair, PMMA hardens to form a completely seamless surface that is incredibly strong and can withstand heavy vehicle and foot traffic without lifting, cracking, fading or wearing, delivering a minimum lifespan of 10 years.
These superior qualities are why leading supermarket chains Lidl and Musgraves have both opted to install PMMA resin flooring in their Irish distribution centres.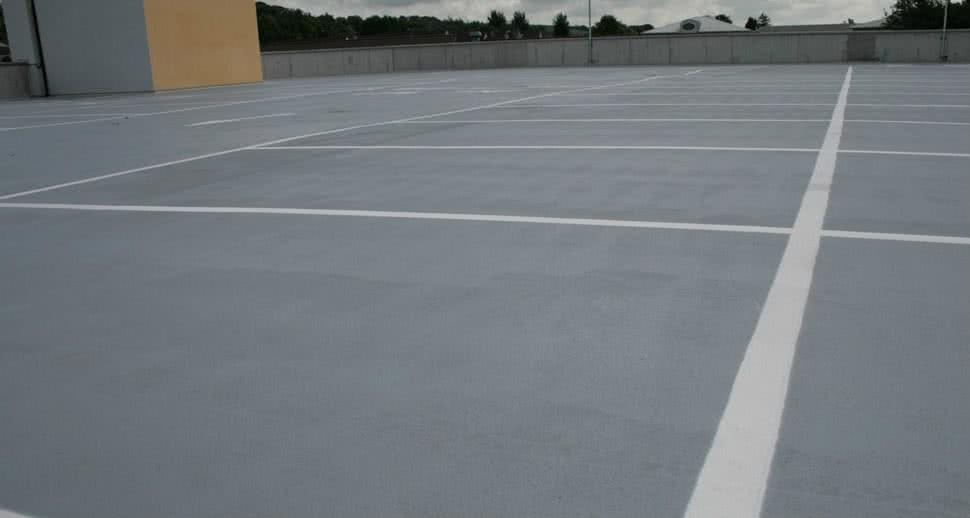 Car Park Flooring
Both indoor and outdoor car parks need durable flooring systems. In outdoor car parks, weather conditions are a key consideration. Flooring systems need to offer high UV resistance and incorporate water-proof membranes that are slip resistant. Epoxy and PU resin floors are not UV resistant, meaning they gradually yellow when exposed to small amounts of sunlight. PMMA resin flooring systems, by contrast, are almost fully UV resistant and do not discolour over time, making them a more practical choice for outdoor car park flooring.
Indoor car parks also require durable flooring which is slip resistant. Flooring also needs to be able to cope with medium to high levels of mechanical stress and to incorporate high visibility signage for parking and walkway demarcation. As already discussed, Epoxy and PU resign flooring needs to be replaced every 5-10 years, while PMMA concrete coating systems have a minimum lifespan of 10 years, often longer, making them a much more cost-effective solution for commercial car park operators.
For more information about PMMA flooring for car parks, download the technical data sheet for Indoor or Outdoor Car  Parks.
Before you even begin to choose the best flooring system for your project, first you must thoroughly analyse all current and future user requirements. If you require extra hard wearing capabilities, flexible installation, enhanced UV protection, temperature resistance or hygiene standards, or simply the ability to repair or upgrade easily, then a PMMA flooring system is proven to be the best choice.
While the initial outlay for PMMA resin floors can cost more than other resin flooring options, an average lifespan well in excess of 10 years means the total cost of ownership is actually a lot lower, once the additional longevity of the flooring has been factored in. In terms of durability, PMMA has emerged as a leader in resin flooring and is quickly replacing Epoxy and PU floors as the preferred choice in industrial environments.
Read more on industrial PMMA flooring systems, or contact FloorTech® today to find out more.
Request a Quote
Please provide as much detail as possible about your specific needs, and a member of our team will be in touch.