Veterinary Surgeries | 3 Crucial Flooring Considerations
Veterinary practices are demanding environments. Due to the nature of the business, flooring needs to be extremely durable, whilst also being easy to clean and maintain. While in the past, vinyl and tiles were popular with veterinary surgeries, factors such as the growing risk of infectious disease, floor failure and the changing chemical makeup of cleaning products are causing a shift towards more advanced solutions with greater performance benefits. Here, we look at the three key factors you should consider when choosing a floor for your veterinary practice.
1. Hygiene
In any environment that involves animals, controlling the spread of infectious diseases and having an easy to clean surface areas is crucial. When your veterinary floor is seamless and impervious, it prevents germs from building up in cracks or gaps in the floor surface or along the wall's edge.
The problem
Unfortunately, vinyl flooring often suffers from welded joints that easily crack. Not only does this make them difficult to clean, these cracks often hold moisture in them, and damp environments are the perfect environment for bacteria to thrive in. Dangerous and hard to remove, bacteria can also cause quite an unpleasant odour for you, your patients and their owners.
The thing that makes hard-surface ceramic floors so popular is that they don't tend to attract dust, dirt, stains or other allergens. As a result, they can be easily cleaned with a mop or a sponge. However, the grout between them will discolour and attract and harbour bacteria over time. The main issue with ceramic flooring is the ridges, as dirt and germs can easily become trapped in them.
The solution – Trazcon® PMMA Resin Flooring
FloorTech is proud to be leading the way with its innovative PMMA resin flooring and wall system called Trazcon®. Certified to the highest standards for hygiene (EN1186) and slip resistance (BS7976-2:2002), Trazcon® has a seamless, closed pore, monolithic surface, meaning there is nowhere for bacteria to harbour, making them 98% cleaner than standard PU floors.  What's more, with the installation of a FloorTech floor and wall system, wash-downs can be easily done from the ceiling to the floor, ensuring animal control areas can maintain a bacteria-free and odour-free environment.
2. Maintenance
Flooring in veterinary surgeries is subject to high foot traffic and exposure to hazardous chemicals on a daily basis. So, a floor that is easy to maintain and repair is crucial.
The Problem
Tiles and vinyl will crack, chip and eventually fail. Before you know it, you'll quickly be required to upgrade the whole floor.  Standard PU concrete and epoxy-resin floors are difficult to repair when damaged and normally require complete replacement.
 The solution – Trazcon® PMMA Resin Flooring
Trazcon®, Floortech's PMMA based flooring systems offer a much greater level of durability and longevity for veterinary clinics. Because of a unique interlayer chemical bond, FloorTech's Trazcon® floors can be repaired or even upgraded without the need to remove the existing floor, dramatically increasing the longevity of your floor. In fact, they are designed to last the lifetime of the structure, pending correct care and maintenance. Trazcon® PMMA resin flooring also offers the quickest installation time of any resin flooring. Due to the incredibly rapid cure time of PMMA resin of just one hour, floors are ready for use one hour after installation, minimising any business downtime.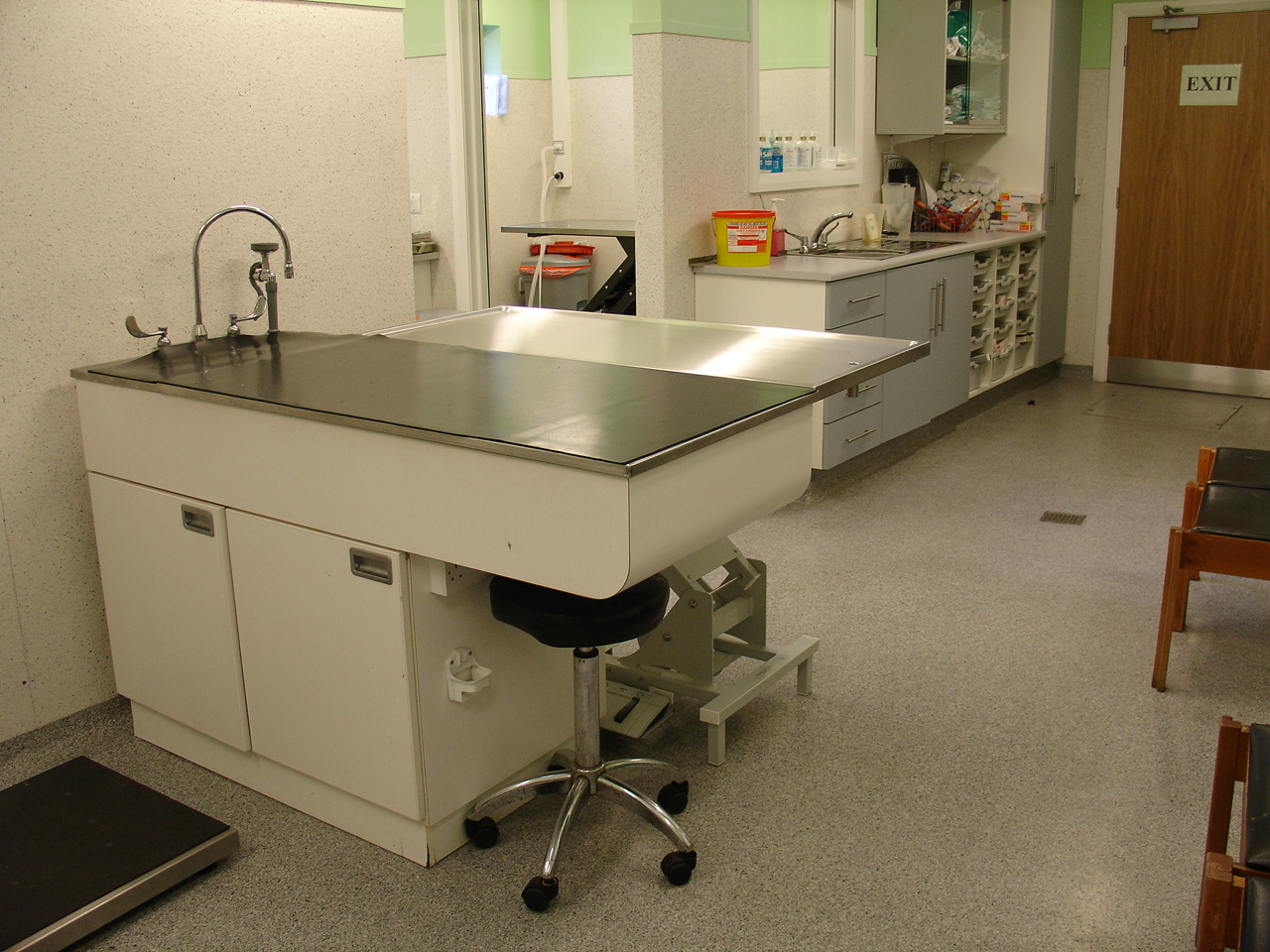 3. Durability
Having a robust, reliable floor is crucial to the efficient day to day operations in veterinary practices. From both a professional aesthetic viewpoint and a health and safety standpoint, the floor on which you and your visitors walk must be clean, safe and in good order, over a long period of time.
 The Problem
Wear and tear and exposure to hazardous chemicals will quickly damage and deteriorate a vinyl floor while tile grout discolours and gets dirty very quickly.  Epoxy floors cannot withstand UV exposure over time and will discolour due to sunlight.  And while PU concrete flooring provides strong resistance to impact, abrasion and most chemicals, when damaged, it is not easily repaired.
 The solution – Trazcon® PMMA Resin Flooring
The Trazcon® RS system,  is a polymethacrylate, self-levelling decorative floor screed with high aesthetic properties. It is widely used throughout the retail and commercial sector. The PMMA hardens to form a completely seamless surface that is incredibly strong and can withstand foot traffic without lifting, cracking, fading or wearing. Trazcon® offers temperature resistance up to 60 degrees Celsius of continual heat or up to 80 degrees Celsius for short irregular periods e.g. wash-downs. Plus, it provides chemical resistance from the majority of cleaning agents and even solvents and acids, making it an ideal solution for installation veterinary environments. Trazcon® can be mixed to any colour finished in a range of decorative styles, patterns, flakes and even bespoke graphics. What's more, the material allows for high light transmission and can increase light reflectivity by up to 30%, enhancing the experience for customers and staff alike.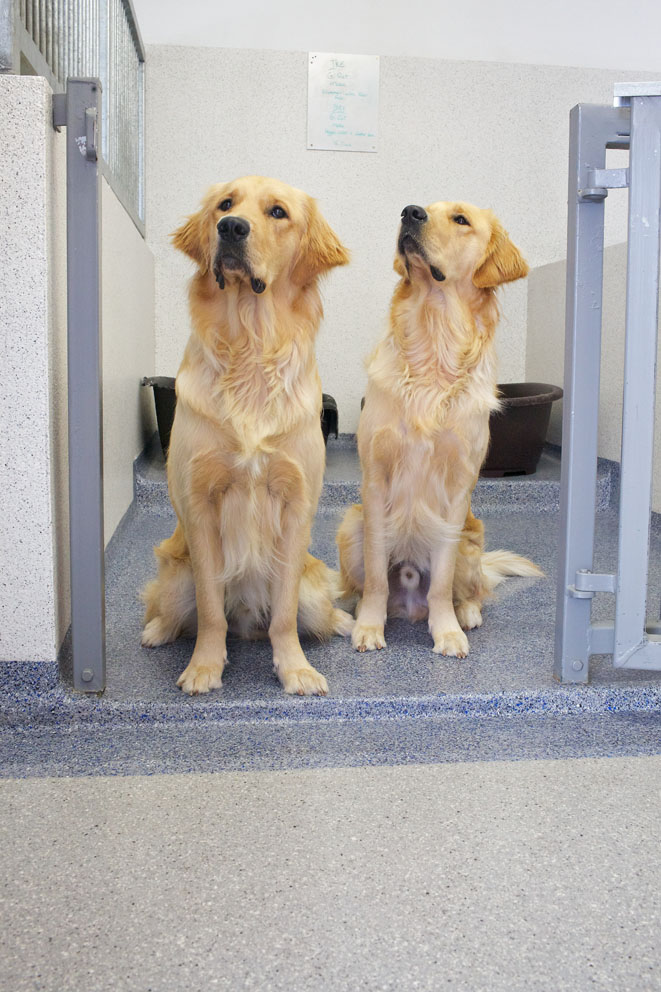 Who's choosing Trazcon® and why?
Trazcon®, Floortech's PMMA based flooring system is a modern flooring solution for the modern demands of a veterinary practice. Hygienic, easily maintained and extremely durable, its strong, long-lasting surface is impermeable to germs and the surface can be tailored depending on the specific needs and usage of each area. These are all reasons why Trazcon® is fast becoming the number 1 choice for veterinary clinics across Ireland and the UK. As well as offering immediate, tangible benefits like dramatically faster installation times and a longer work lifespan, Trazcon® offers a lower total cost of ownership.
Learn more about veterinary flooring solutions on our website and discover how we have helped clinics such as Knockgriffin Veterinary clinic in Cork, and animal care organisations like The UCD School of Veterinary Medicine, The CSPCA, Limerick Animal Welfare and the Irish Guide Dogs for the blind.
We are here to help
To speak to someone about your own specific flooring requirements, simply contact FloorTech® today and one of our team of experts will be happy to help. In the meantime, why not download the technical brochures for the Trazcon® flooring system here.
Request a Quote
Please provide as much detail as possible about your specific needs, and a member of our team will be in touch.