FloorTech are delighted to announce that we are one of the few flooring manufacturers in the world to have successfully undergone a differentiated test in accordance with the international HACCP (hazard Analysis and Critical Control Points) guidelines for the food industry. This means that users from industry, gastronomy and trade can be assured that with a reactive resin floor coating they are getting a product certified for the food sector. This is significant not least for companies that want to be audited according to HACCP in line with GMP.
In the food industry, HACCP certification is now regarded as an important seal of quality for safety standards. The issue of hygiene plays an important role in this context, as does the correct equipment and hazard-free working conditions.
Achieving HACCP certification involved the inspection of seamless surfaces. Ease of cleaning with the option of seamless coving were important cornerstones in the committee's assessment. Likewise, the option of customised slip-resistance and also ensuring the load bearing capacity of the floor were important considerations. Particular attention was placed on installation instructions and also on the determination of training measures.
With the recognition as an HACCP-internationally certified supplier for food companies, FloorTech not only provides its customers with an independent confirmation, but also supports them in obtaining their own certification.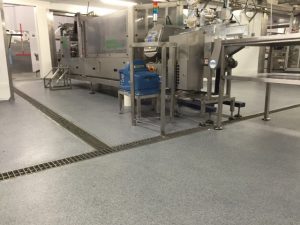 If you'd like more information or assistance in deciding what kind of resin floor is right for you, contact the experts at Floortech today.
Request a Quote
Please provide as much detail as possible about your specific needs, and a member of our team will be in touch.