Choosing the right flooring is a critical step in any commercial project, one which involves thorough consideration of the planned use for a space over time. Much like the key considerations in choosing industrial flooring, the right commercial flooring must account for the anticipated volume and type of traffic, the purpose of the space and any specific environmental needs or restrictions. Specialised finishes, designs and budget restrictions must also be considered.
When it comes to commercial flooring, however, the look of the finished floor can easily be as important as its functionality. Navigating the latest wave of trends and options for commercial floors can be tricky: resin or recycled, polished concrete or acid-stained? Many commercial architects and designers are making the process easier by choosing a long-lasting, high-performance floor type that offers great aesthetic flexibility, such as PMMA resin flooring, and then dressing up the material to suit their project.
Colour
Colour is a key consideration for commercial flooring for many reasons. A light colour floor can help make a space brighter and appear larger through light reflectivity which can increase light by 30% thereby making it more inviting for consumers.
A bold coloured floor can have a strong impact in a commercial space, for example in a retail shop or night club. Highly customisable flooring like PMMA resin floors also offers an opportunity to personalise a space by choosing a brand colour either for the entire floor or as accents throughout a building.
Design
Most commercial flooring systems allow for a range of design options, from discreet to flashy to functional. Different colours or patterns can be used in different locations throughout a commercial space to link areas or separate sections, such as to distinguish a bar from the attached restaurant or dance floor.
Directional designs, whether subtle guides or specific arrows, can help visitors move along an intended route. In specific built-for-purpose commercial spaces, designed commercial flooring can be an essential part of the business, such as road markings laid into the floor of a go-karting facility.
Graphics
Some commercial flooring, such as PMMA resin floors, can have specialised graphics embedded directly into the floor. This means a brand logo can be perfectly placed in the entrance of a shop or a series of artworks can be permanently present throughout a space.
Any image can be integrated into a PMMA commercial floor, including logos, custom graphics, artwork and even photography, offering designers greater options than ever before for customising a commercial space.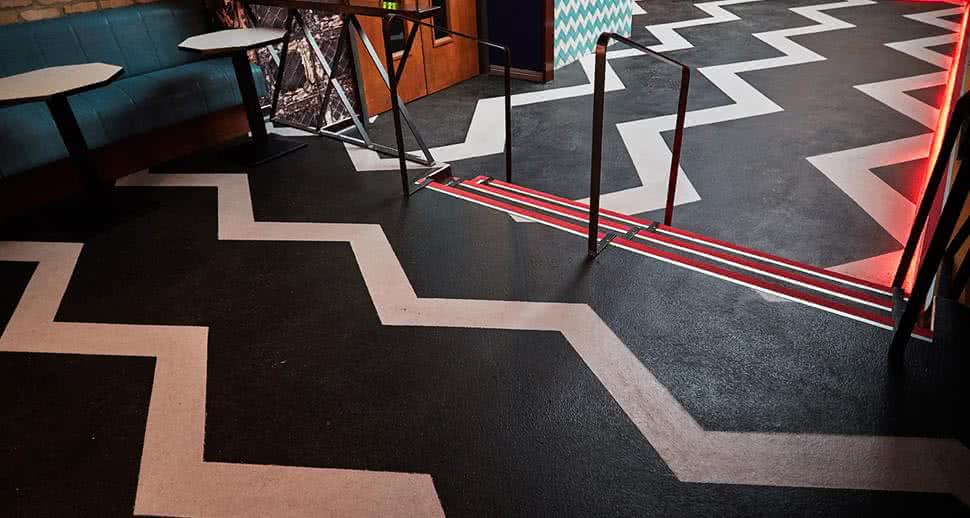 Patterns
The opportunity for subtle, bold and unique patterns in resin commercial flooring is boundless. PMMA commercial floors can have one-colour or mixed quartz surfaces, standard flake patterns, mixed flake patterns or bi-coloured flakes that create a distinctly textured look.
Numerous standard mixes are available, or designers and architects can work with suppliers to develop a custom blend. Commercial flooring suppliers can also install resin floors according to a preset pattern, such as checkerboard or stripes, and highly capable suppliers can even work with designers to transform a floor design into an optical illusion using PMMA resin.
Safety
Anti-skid coatings are an important consideration for the safety of both patrons and workers, especially in wet conditions. PMMA commercial floors offer an enhanced level of safety with an anti skid surface which can be tailored to the area and its use.
For instance in nightclubs where there might be a slip hazard due to liquid spilled on the floor the floor can be tailored to negate the risk of slipping thereby reducing any litigation costs to the client.
Finish
Commercial flooring systems offer a range of finishes to suit a floor's intended purpose. Specialised coatings are also available to resist damage from vehicle traffic or to prevent corrosion from water or chemicals. A flexible floor finish can be important to minimise damage from small scratches, such as from high heels or dropped utensils.
The unique inter-layer chemical bond in a PMMA floor allows for repair or refurbishment without the need to remove the existing flooring. Finally, if cleanliness is highly important for a space, commercial floors that are non-porous and seamless in their construction are available.
Whatever the planned use of a commercial space may be, PMMA resin flooring is an excellent, high-performing way to complete the design. Offering incredible durability, performance and flexibility throughout its industry-leading lifespan, PMMA commercial flooring has the fastest installation time and easiest repair protocol of any resin flooring, which helps to minimise downtime for installation and maintenance and keep commercial spaces open for business.
If you'd like more information about PMMA resin commercial flooring, contact the experts at Floortech® today. We can help you explore options for colour, design, finish and more, and decide which commercial flooring system is right for your project.
Request a Quote
Please provide as much detail as possible about your specific needs, and a member of our team will be in touch.