Overcoming Health & Safety Risks Through Flooring Systems
The Food & Beverage sector has been experiencing unprecedented worldwide growth over the past number of years, with no indication of slowing down.
According to a recent report from Persistence Market Research, the sector will continue to grow in value at a CAGR of 5% between 2016 and 2024. Meanwhile, strict health and safety regulations are being imposed on the sector by various government bodies, such as the USDA, FDA and EU. Food & Beverage companies are increasingly accountable for ensuring unwanted contaminants, microbes and harmful bacteria don't infiltrate the food production chain.
However as demand becomes more intense and production facilities increase in size, it can be all too easy for produce to become contaminated, workers to injure themselves and operating costs to spiral.
This article outlines how leading organisations in the Food & Beverage sector, such as Danone, Pepsico and Dairygold, have overcome these challenges using innovative flooring solutions, allowing them to return their focus to driving business growth.
Overcoming the top challenges facing the F&B sector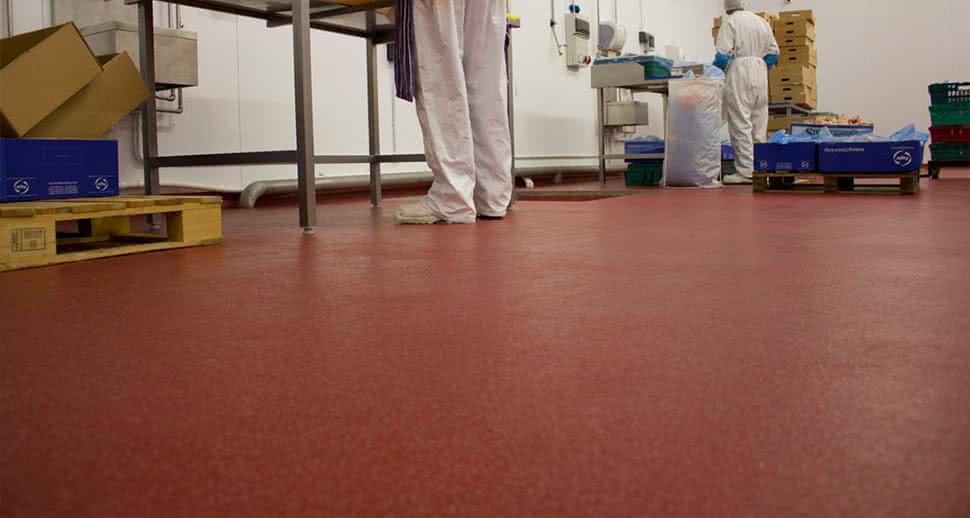 FOOD CONTAMINATION
Floor areas in Food & Beverage production facilities are arguably the most at risk of contamination. Gravity means that most contaminants end up on the floor, and hazardous microbes can spread quickly, especially if there are above average levels of atmospheric moisture, which can lead to spoiled produce or even cause foodborne epidemics.
Making sure flooring is both seamless and impervious is the most effective way to minimise these threats, as it prevents germs from building up in cracks or gaps in the floor surface. This should also extend to the edge of the floor, where it meets the wall, by using coving to ensure a smooth and consistent transition from flooring to wall. Coving also makes the wash down process faster and more effective, by containing the water and making corners and sides easier to access.
Today's resin flooring offers significant performance advantages with the most advanced benefits coming from PMMA resin flooring. Its seamless, monolithic surface is covered with a non-porous resin screed, which is easy to clean, totally impervious to germs and is 98% cleaner than standard PU floors. As a result, PMMA resin flooring is rapidly becoming the preferred solution for the Food & Beverage industry.

Danone Nutricia are producers of infant milk formula, a sector that demands the very highest levels of hygiene and one that has experienced substantial growth in recent years. As the base powder forms part of all Danone baby-nutrition formula products, maintaining a safe and sterile environment was all-important. Danone chose PMMA resin flooring throughout their various production and packaging facilities across Ireland, due to its unrivalled hygienic properties.
"We have laid over 20K square meters of PMMA flooring over the past 5 years. We find the product excellent for hygiene, ease of application & durability together at a reasonable cost."
Donal Dennehy, Ind Director IRL, Nutricia Infant Nutrition Ltd

"After carrying out a number of trials to determine what we believed to be the best flooring product for our milk powder processing plant areas we selected Floortech's Trazcon® PMMA floors. The building finish within our powder plant must satisfy stringent audits from our customers and other regulatory bodies,
and high-quality clean floors are key to this. The finish to the floors must be such that particles, spillages etc. are easily cleanable".
Michael Collins, Project Engineer, Dairygold Ireland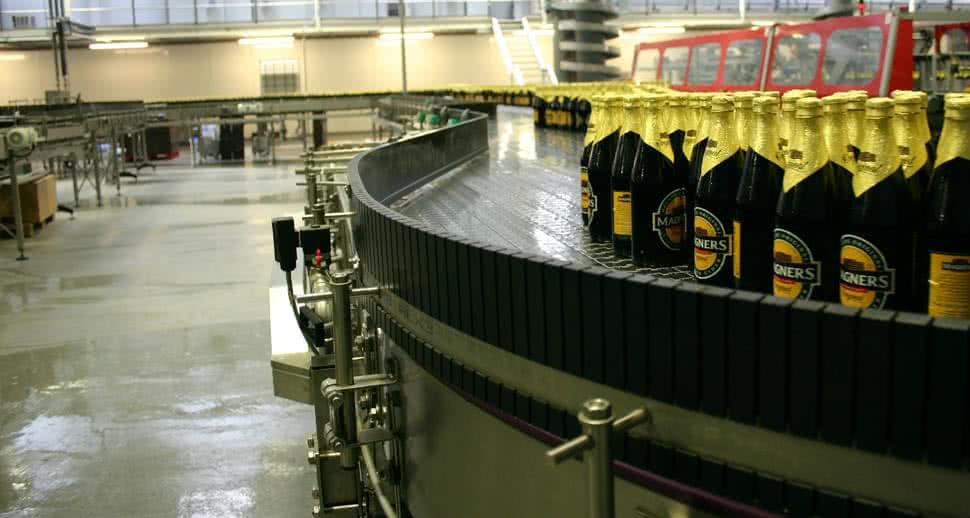 WORKER ACCIDENTS
While it is crucial that flooring is hygienic and easy-to-clean, there is another essential property that flooring in the Food & Beverage sector must possess – slip resistance. Almost half of all serious accidents in the workplace are attributable to slips and falls. According to Eurostat, the statistics office of the European Union, the number of fatal accidents in the workplace is on the rise in an alarming 17 of the 28 member states.

The nature of food and beverage production means the flooring in facilities is often wet, so an anti-slip finish is vital to keep employees and visitors safe. However, textured surfaces are traditionally less easy to clean, meaning a compromise often needed to be made, when hygiene and slip resistance were both of vital importance.
Fortunately, innovative flooring companies such as Floortech®, offer PMMA resin flooring which is certified to the highest standards of both Food Conformity (EN1186) for hygiene, and Slip Resistance (BS7976-2:2002), allowing Food & Beverage facilities to ensure impeccable hygiene standards and keep workplace accidents to a minimum. Anti-skid coatings can also be reapplied quickly and with ease, so facilities never have to compromise on safety or experience periods of downtime.
The meat production industry subjects flooring to incredibly stressful conditions. This is why Liffey Meats, one of Ireland's leading beef processors, chose a FloorTech Trazcon® PMMA flooring system, when they upgraded their 600m2 boning hall in Cavan.
They needed a solution that was extremely durable and hygienic, which also offered excellent anti-slip qualities. The solution they chose not only conformed to the highest standards in all these areas, the entire 600m2 floor was installed over one weekend, with production commencing again on the Monday, meaning business disruption was kept to an absolute minimum.

RISING OPERATIONAL COSTS
Food & Beverage facilities are subject to considerable wear and tear, with heavy machinery, rigorous cleaning procedures, chemical spills and high traffic all taking their toll on the flooring system. A lack of understanding about the different options for industrial flooring can lead to the wrong kind of floor being chosen, which can be an expensive mistake when the costs of maintenance, repair and replacement are factored in.
Standard PU and Epoxy flooring need to be replaced every 10 years, predominantly because it is difficult and often impossible to repair when damaged. In contrast, PMMA resin flooring can be upgraded or repaired without having to remove the existing floor, dramatically increasing its longevity, with floors generally lasting 30 years or more. After repair, the flooring hardens to form a completely seamless surface once more, which can withstand heavy vehicle and foot traffic without lifting, cracking, fading or wearing.

The PMMA flooring systems Pepsico installed over 20 years ago are still performing as well today as the day they were first laid. They continue to exceed all health & safety requirements particularly from a slip-resistance and ease of cleaning perspective.

Paving the way for safer operations
Before considering the best flooring for Food & Beverage production facilities, you should first determine all use requirements – both current and future. For extreme durability, increased hygiene standards, anti-slip properties or just the ability to repair and upgrade their flooring easily, PMMA resin flooring has proven to deliver the best results.
To learn more about resin flooring and PMMA resin flooring, contact our team today on +353 21 435 1560 (Ireland) or +44 16 1775 2942 (UK).
Request a Quote
Please provide as much detail as possible about your specific needs, and a member of our team will be in touch.