Ferbane Fire Station
Fire station flooring: safe, durable and easy-to-clean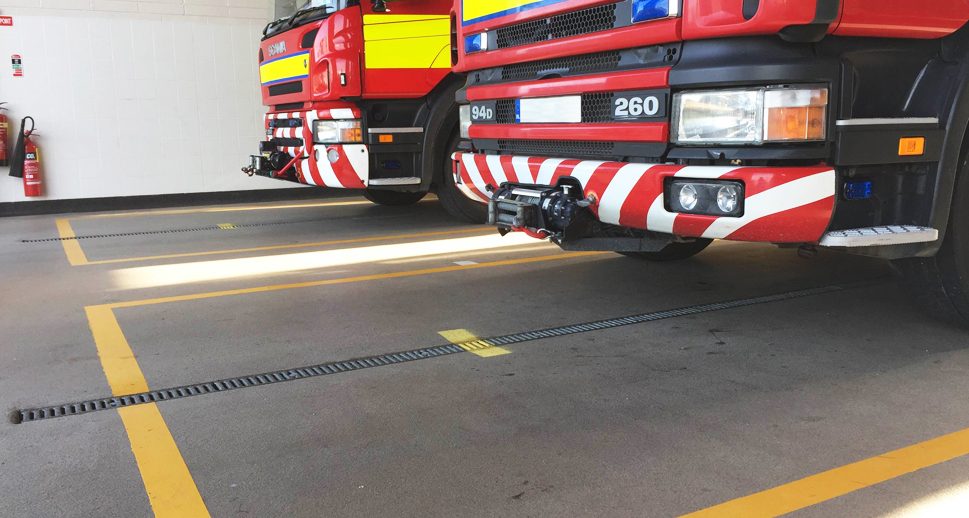 Client:
Ferbane Fire Station
Project Locations:
Offaly, Ireland
New state-of-the-art fire station in Ferbane, County Offaly required a first-class flooring solution.
The new fire station at Ferbane required a floor which would meet a range of demanding requirements. As well extreme durability to cope with the heavy traffic involved, it also had to offer excellent anti-skid properties to safeguard staff and visitors.  
In contrast, other areas needed a smooth finish; bathrooms, showers and muster areas etc. had to be easy-to-clean, with nowhere for water, dirt or bacteria to harbour. On top of all that, the floor needed to look good, facilitating a positive workplace environment. 
After carefully assessing all requirements, FloorTech® determined the Trazcon® Décor System, combined with the Trazcon® RS System, to be the ideal flooring solution for Ferbane Fire Station, as together they offer the following features: 
Certified anti-skid in accordance with BS 7976-2:2002.
Easy to clean and maintain with a seamless transition between wall and floor.
Durability designed for heavy duty and industrial applications.
Ferbane Fire Station now benefits from a state-of-the-art flooring solution, which is totally impervious to germs and bacteria, as well as one that provides the highest standards in anti-slip safety. 
To read more about the project challenges, solution and outcomes, download the full project details.
Download Project PDF
An important decision in the selection of the flooring system was the ability to seamlessly join sections containing both antiskid and smooth finishes. FloorTech® completed the installation within the specified frame and the finish is to an extremely high standard throughout.
Clive Duke, Senior Assistant Chief Fire Officer, Offaly Fire & Rescue Service
Request a Quote
Please provide as much detail as possible about your specific needs, and a member of our team will be in touch.