The Conrad Hotel
A hygienic flooring solution to ensure top health and safety standards for hotel kitchen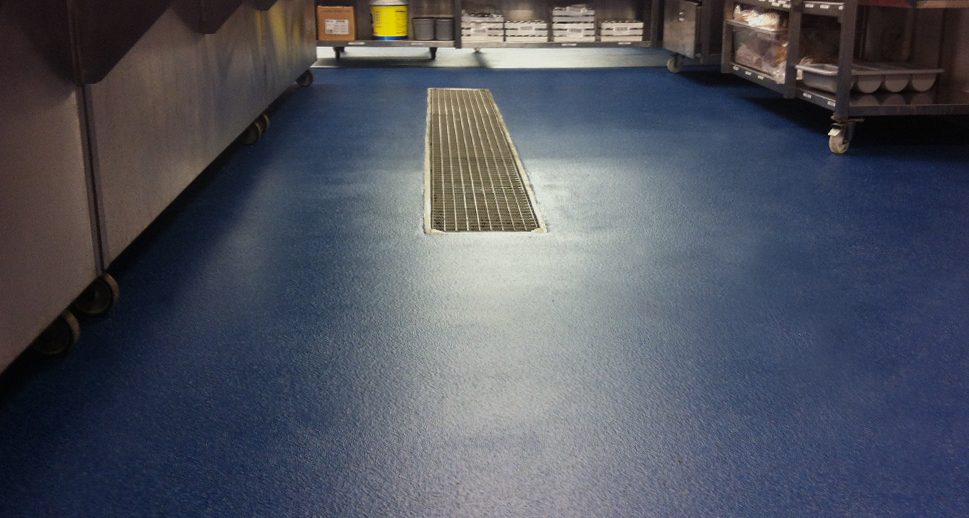 Project Locations:
Dublin, Ireland
Hygienic, easily refurbished and safe anti-skid flooring solution for one of Dublin city's most prestigious hotels.
The Conrad Hotel team are constantly reviewing their facilities, to make sure they are offering their guests the very best experience. When they needed to upgrade a ceramic tiled floor in their hotel kitchen, they approached FloorTech® for help.
Their hotel kitchen required a flooring solution that offered superior hygienic properties and would comply with the increasingly rigorous food conformity standards. The new floor also needed to be certified for anti-skid capabilities, to ensure the safety of their kitchen staff. Additionally, the new floor had to be easy to clean, upgrade and repair, so business would not be interrupted by future maintenance requirements.
After carefully assessing their kitchen requirements, we determined the Trazcon® Décor System 2 to be the best flooring solution for The Conrad Hotel, as it offers the following features:
Extremely hygienic: Certified to Food Conformity EN-1186.
Anti-skid properties: Certified with Slip Certification BS 7976-2:2002.
Repair or upgrade with minimal disruption and cost.
The flooring solution for The Conrad Hotel kitchen not only provides optimum safety for hotel staff but it is also incredibly easy to clean and can be repaired or upgraded with minimal disruption.
To learn more about the project challenges, solution and outcomes, download the full project details.
Download Project PDF
We adhere to very strict hygiene standards in our hotel so it was very important to us that our new floor was very easy to clean, impervious to germs and met food conformity standards. From the outset we found FloorTech were excellent to deal with. As Floortech are very experienced in commercial kitchen flooring they understood our concerns and were able to tailor a floor finish which met all or our needs.
Beniamin Craciun, Facilities Manager, The Conrad Hotel
Request a Quote
Please provide as much detail as possible about your specific needs, and a member of our team will be in touch.