HACCP certified Trazcon® flooring proves extremely popular
At FloorTech we are very proud that our company is synonymous with the most prestigious hotels in Ireland. We recently extended our client base in the hotel industry by completing projects throughout the country for some of Ireland's premier hotels hotels including The K-Club, The Gaulmount and The Strand Hotel, to name but a few.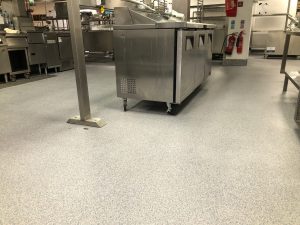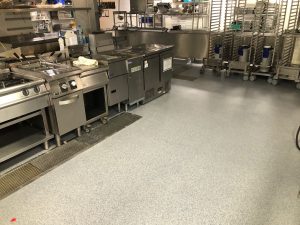 HACCP Certified Trazcon Decor SL system
In a kitchen environment hygiene and safety are always the two primary considerations when selecting a flooring system. From a hygiene perspective our Trazcon® flooring and cove systems  are seamless and pore free with nowhere for bacteria to harbour. Uniquely, this coupled with our Trazcon® flooring systems being HACCP certified means that we provide a floor to our clients that it is certified to food safety standards and meets the most stringent of hygiene regulations. The other key consideration is safety. Our floors are certified for slip resistance BS 7976-2:2002 ensuring a safe surface for staff, while our tailored anti-skid profile means that the floor is also easy to clean.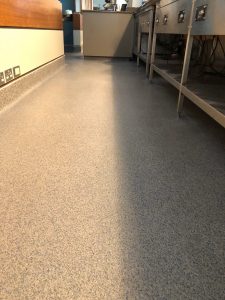 With many references over twenty years old, the durability of our flooring systems is well proven and it is this durability that delivers on the lowest total cost of ownership for our clients.
If you want to know more about our Trazcon® flooring systems please click on the link below to arrange a callback and take the first step towards HACCP certification.
Request a Quote
Please provide as much detail as possible about your specific needs, and a member of our team will be in touch.