Resin flooring provides an incredibly durable, safe and lasting floor solution for all industrial applications, from food production and pharmaceuticals to retail markets, automotive factories and more.
Easy to clean, resistant to wear and damage, and offered with anti-skid and excellent hygienic properties, resin floors can address common health and safety concerns while providing an attractive, customisable look.
The three main types of resin flooring are PMMA, polyurethane (PU) and epoxy. While all resin floors are more hygienic and durable than other flooring surfaces, the differences between each type can provide significant advantages or disadvantages depending on their use.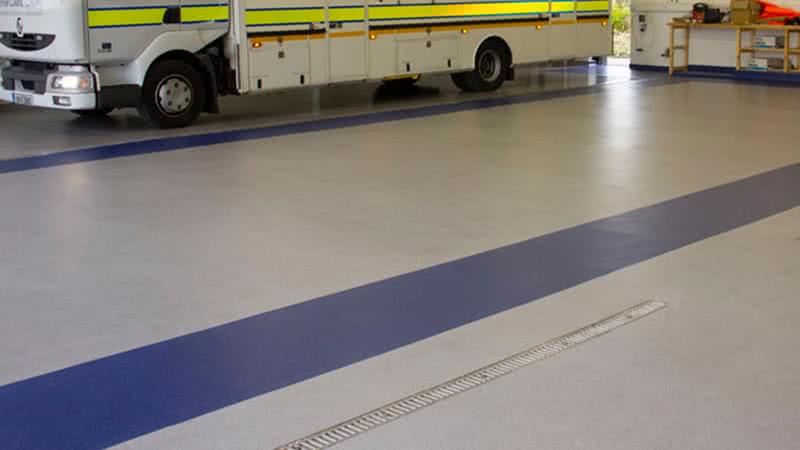 PMMA
PMMA stands for polymethyl methacrylate, a synthetic resin also known as "acrylic" or "acrylic glass" that is used to create common products like Plexiglas, Lucite and Perspex. Classified as a thermoplastic resin, PMMA resin flooring is highly customisable for precise industrial needs, such as slip, chemical or electrical resistance.
The distinguishing characteristic of PMMA resin flooring is its incredibly fast application and hardening (cure) time, even at temperatures below 0°C. This super-short cure time ensures that a PMMA resin floor can be fully installed and fully cured over a weekend, resulting in minimum downtime for factory and production facilities.
PMMA flooring is also easy to repair and upgrade due to its unique interlayer chemical bond, versus other resin floorings that require complete replacement. PMMA resin floors do typically cost more than other resin floorings; however, PMMA resin floors are longer lasting and the time interval to first maintenance is considerably longer than any other system, an important consideration when comparing resin floor options.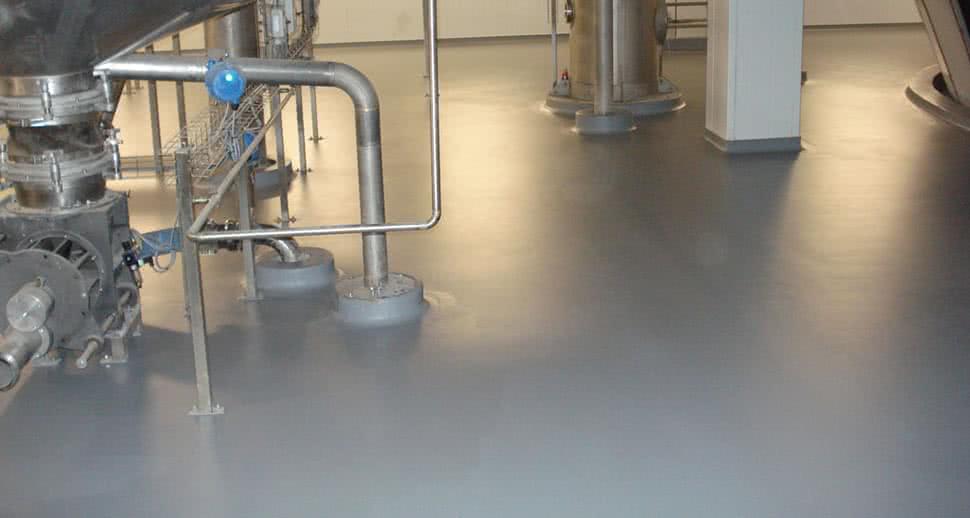 Polyurethane
As with PMMA floors, PU resin flooring provides excellent resistance to impact, abrasion and most chemicals. However, the main advantage of PU resin flooring is it's resistance to high temperature and direct heat. It is ideal for in front of ovens in a bakery where hot trolleys are left to stand and cool.
Available in a number of different finishes, its flexibility ensures that it is well equipped for impact absorption.
Classified as a thermoset resin, PU resin floors take significantly longer to cure than PMMA resin floors, which means more operational downtime during installation and any repair.
Epoxy
Probably the best known and most widely used kind of industrial resin flooring, epoxy resin is a thermoset material that offers the performance and durability of resin flooring and is the optimum resin flooring choice for electrical conductive flooring.
There are several types of epoxy resin available, offering various advantages depending on use, but all epoxy resin flooring is very hard and bonds fully to concrete, thereby protecting the underlying concrete base from impact, wear, abrasion, water ingress, oil and a wide range of chemicals.
If an epoxy resin floor is damaged, however, it must be fully replaced, and with the longest cure time of all resin flooring options, an unplanned replacement could be very costly to a business.
Resin Flooring Comparison Chart
| | | | |
| --- | --- | --- | --- |
| | PMMA | PU | Epoxy |
| Cure Time | 1 hour | 5 days | 7-10 days |
| Overcoat Time | 1 hour | 8-12 hours | 12-24 hours |
| Installation Temperature | 0-30+ °C (sub-zero possible with additives) | 10-30+ °C (optimal temperature 15+ °C) | 10-30+ °C (optimal temperature 15+ °C) |
| Repair Potential | Excellent | Poor | Poor |
| Upgrade Potential | Excellent | Remove & Replace | Remove & Replace |
| Custom Colours | Yes | Yes | Yes |
Selecting the Right Resin Floor
Because the various resin floor types offer specific benefits and drawbacks depending on use, it's important to choose a resin flooring based on the needs and performance requirements of the specific floor, rather than cost.
For example, different chemicals can affect epoxy and polyurethane floors differently. The organic lactic acids experienced in milk, dairy and cheese production can corrode and yellow an epoxy floor, whereas PMMA resin flooring and PU floors aren't affected. Industries with exposure to sulfuric acids should avoid polyurethane floors, which are susceptible to damage from such acids.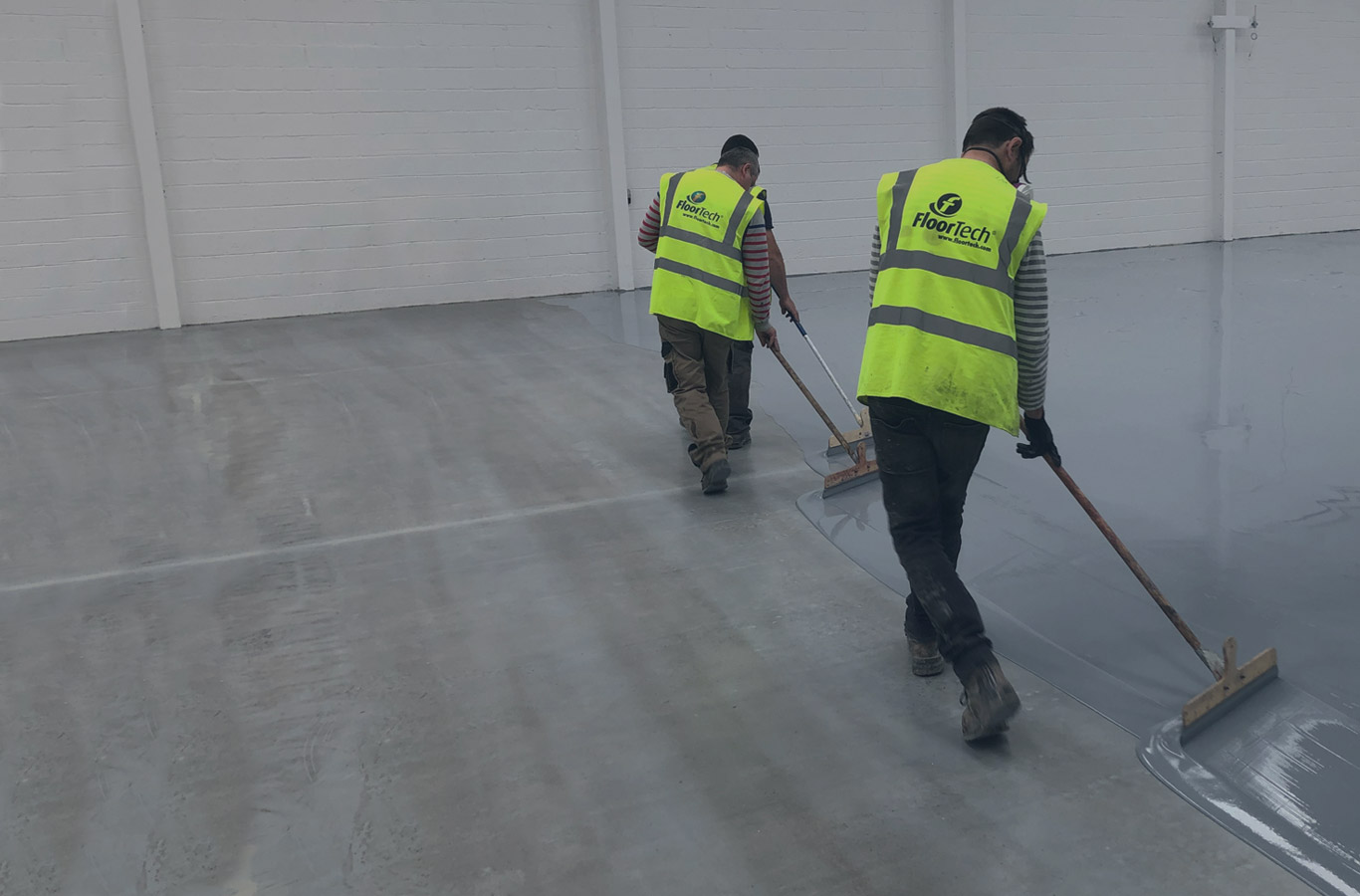 Consider Ease of Installation and Maintenance
Another important consideration is the installation process, as well as ongoing maintenance and repair. Polyurethane flooring is considered the most difficult to work with, while epoxy takes the longest to fully cure.
PMMA resin flooring is fully cured and chemically inert in as little as one hour, so is an ideal choice if minimal downtime is an important business need. All resin floors are easy to clean and more durable than other floor types, but PMMA resin flooring is the easiest to repair if any damage does occur.
Resin flooring is an optimum choice for many industries, whether the primary requisite is ease, durability, longevity, hygiene or a combination of factors. Selecting the best resin flooring for a project begins with a thorough determination of current and future use and requirements.
Learn more about FloorTech's Resin Flooring: 
To learn more about resin flooring and PMMA resin flooring, contact our team today on +353 21 435 1560.
Request a Quote
Please provide as much detail as possible about your specific needs, and a member of our team will be in touch.